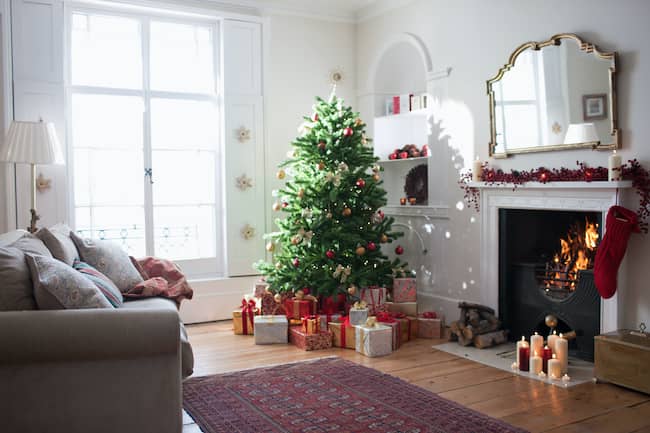 It's that time of year again to light the menorah or trim the tree. If you play your cards right, the holidays can be a great time to sell your home; there's less competition in the market and home shoppers are highly motivated.

Even with less competition, it is important to stage your home in a way that will appeal to the masses to attract the most potential buyers to your home, even if it means changing your personal decor for a while. If you're looking to sell your home during this busy time of year, making your home festive while also keeping it show-ready is a delicate balance. Try these tips to keep your home in the holiday spirit while on the market.

1. Be Tasteful At The Curb
Curb appeal is the first thing that potential buyers notice about your home. Keep the tinsel, multicolored lights and those blow-up characters in storage. Remember that neutral decor has mass appeal and, when in doubt, keep it simple.

The entrance to your home should be understated. Try using white lights for elegance. Keep to a simple color scheme to highlight your home's exterior colors. Use natural elements like pine cones, seasonal flowers and greenery. Don't forget to hang a seasonal decorative wreath on your door or windows.

Remember that potential buyers will be driving by your home at all hours, even if they don't have a showing scheduled. Keep your lawn cut and clear of leaves, keep your driveway and sidewalks free of snow, and sweep off your porch more frequently than you might otherwise. You want to be sure that your home looks extremely well-maintained from the street.

2. Light Up Your Home
With the days getting shorter, it's important to focus on your light sources. You will want to have good lighting on both the inside and outside of your home. Since it gets dark before dinner time, many of your home showings will likely be after dark. Have a bright porch light so potential buyers can clearly see the front door and the key to get in. White twinkle lights add a festive touch and help to provide a little extra lighting.

When buyers or guests approach the house, having all your interior lights on illuminates the home and lures them inside to a warm, inviting atmosphere. If you have a home showing during the day, keep the curtains open to let in natural light. A well-lit home allows potential buyers to see your entire space and appreciate every detail.

3. Holiday Style Should Enhance Home Style
Every home has an architectural style – specific features that characterize a home – and you should include that style in your holiday decor. Before you put up the holiday trimmings, make sure they match the home's theme and color scheme to avoid any distractions.

If you have a traditional home, classic decorations will accent better than contemporary decorations. Midcentury modern homes should be paired with vintage decorations. Keep holiday decor in line with your home's style to best accentuate the selling features of your space.

4. Seasonal Vs. Religious Decor
While Thanksgiving is commonly celebrated regardless of religious beliefs, Chanukah and Christmas are connected to their respective religions and excessive religious decoration could be a turn-off for interested buyers.

Keep your religious decor to a minimum and show your spirit with seasonal accents instead. Seasonal decor could be snowflakes, greenery, winter branches, wrapped gifts, ornaments, owls or reindeer.

Try not to use decorations that are too personalized, because buyers will have a hard time picturing themselves in the home. This is not the year to display all of your kid's pictures with Santa. Keep it simple and remember that you have no idea who your buyer might be or what they might like, so go for things that are universally likeable.

5. Reuse Current Decor
If you plan to put out a bunch of holiday decor, you really should remove some of your everyday decorations to keep the space from getting too cluttered. To keep your holiday decor simple, plan on using items that you normally have lying around your home. Reuse lanterns, candlesticks, vases or bowls, cake stands, picture frames and other accessories, but dress them up with festive trinkets to change the look of the piece. Less is more on house showings.

For example, place ornaments inside the lantern, add pine cones in an apothecary jar or wrap a colorful ribbon around the bottom of a clear vase with seasonal flowers. If you have a lot of framed photos, consider temporarily swapping the photos with holiday wrapping paper for a subtle festive touch. Small accents are really all of the holiday decor that you need when selling your home.

6. Pay Attention To The Color Scheme
When adding holiday decor in your home, you'll want to think about the current colors you are displaying. While silver and gold go with any color, Christmas bright red can clash with your light blue walls or be too bright for an earth tone color scheme. So, use colors that will complement the palette rather than be an eyesore. Try to have your colors blend in more than you usually would.

When in doubt about what will look best in real estate photos, take some photos yourself. Before the official photographer comes over, snap a few pictures on your phone. Look at them – or better yet, show them to someone who does not live in your home – and note what draws your eye. If the holiday decor is overwhelming, you need to scale it back. You want your home to be the star of your listing photos.

7. Accentuate Your Home's Positive Features
When staging a home, it's important to make focal points stand out. To do this, avoid blocking beautiful views, cluttering up the shelves or mantel, or hiding any other unique features in your home.

Don't display large collections of holiday decor. Rooms filled with decorations can feel smaller and collections distract from features of your home. You want potential buyers to walk away remembering your wonderful home, instead of only remembering your overwhelming Christmas village.

Choose a few specific areas of the home to decorate and key accents to show off those highlighted features. If your house has a high ceiling, accentuate the space with a tall, narrow tree tastefully decorated to showcase the space. If there are arched windows or doors, highlight the shape with garland. Keep holiday decorations simple and let your home really shine.

The Big Picture
Remember – home buyers are not buying your stuff. If your holiday decor is overwhelming or distracting, they may not be able to see or appreciate the home underneath. And don't forget Christmas decor will "date" your photos quickly after the New Year, so even suggest your photographer avoid taking photos of the Christmas tree or menorah altogether and remove your wreath from the front door.
Originally published on For Sale By Owner at https://www.forsalebyowner.com/