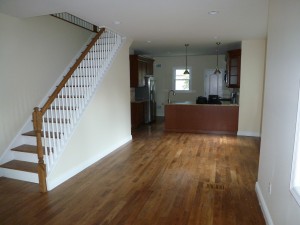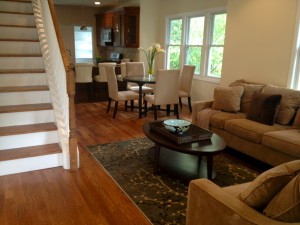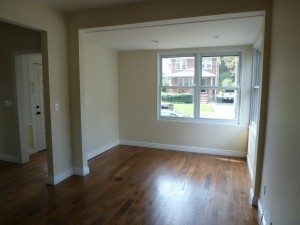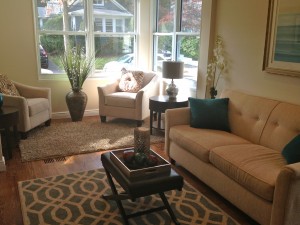 Lately I've had many inquiries about the cost of staging vacant houses, but once callers such as real estate agents, investors, and sellers hear the cost of furniture rental (which I arrange through outside rental companies) their first reaction is to balk. But at around $200 – $300 per room per month (depending on style and price point of furniture as well as number of pieces required for each room), the cost is actually very reasonable considering:
*Furniture rental when selected by a professional stager or decorator is a very smart investment that will easily return anywhere from 2 to almost 6 times the cost (source: HomeGain) in a higher selling price and quicker sale that will save owners money on monthly maintenance, mortgage, property taxes, and other carrying costs
* The cost is always less than a typical price reduction on a property
* Renting furniture is a smart and critical move to creating a warm and welcoming environment for buyers that helps them envision their ideal lifestyle
* Using the services of a design expert such as a stager or interior decorator to place furniture in an empty home shows buyers how to use spaces most effectively, resolves questions about seating, watching TV, reading areas, eating areas, the number of people that can comfortably use a room, too-large or too-small spaces, what to do with awkward angles, oddly-placed fireplaces, etc.
* Using rental furniture from professional rental companies insures all furniture is sanitized, professionally wrapped, delivered, and set-up, and that the inventory is frequently turned over (i.e. updated) to reflect current design trends.
*Stagers/decorators can often negotiate lower rental prices, sometimes get insurance waivers removed, and generally arrange better terms with furniture companies since they know we bring them repeat business and they value their relationships with us.
So while the cost may seem high at first glance, the benefits of renting new, trendy pieces to create the look that appeals to buyers far outweigh the initial cost of around $3-5,000 to furnish 4-7 main rooms in a house over the standard 3-month rental period.