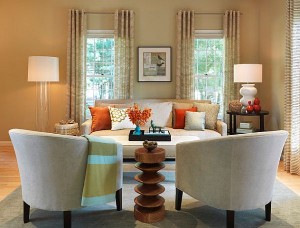 Are you planning on selling your home? Staging consultations are a very inexpensive way to get expert, objective advice on how to best present your home for sale, on-line and in person. An experienced,trained stager is dedicated to helping you sell your home quickly and at a higher price. The advice I typically provide includes:
* how to maximize curb appeal
* easy ways to make homes and rooms look larger in order to increase perceived value
* the best and most popular paint colors today that work with your home's finishes (floors, cabinets, countertops, style) and attract more buyers
* tips on how to lighten and brighten your home, which make it more appealing
* how to arrange furniture to create the best traffic flow and best look for photos
* how to use art effectively
* what style/colors of bedding, rugs, towels, pillows, and accessories will give your home the model-home look to increase offers
At Great Impressions Home Staging, the cost of a thorough staging consultation for up to 2.5 hours is only $225, and can even be less in some cases. You also get a written room-by-room list of recommendations at the end of the consultation. Most homeowners choose to stage their homes themselves following this consultation, but for those who want hands-on help, I can usually stage an average size home in a few hours on a separate day by moving furniture within rooms, accessorizing, arranging bookshelves, hanging or re-hanging art correctly and even packing up clutter if you wish.