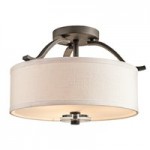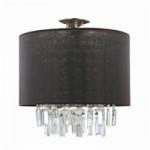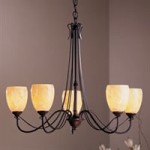 A common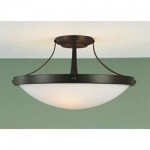 problem I see in clients' homes is outdated lighting, both on the exterior front and inside. Updating your lighting makes a big difference in how your home looks, whether for selling or staying. Ceiling fan lights are prevalent in 80% of the homes I see, and although I don't have a problem with them if they reflect current styles — dark blades, contemporary, sleek, simple shades — I always seem to run into the "blonde" ones with the elaborate, fluted shades that are straight out of the 80s. If you haven't changed out your lights in 15 or 20 years, it's time to think about doing so, especially if you're selling. Semi-flush lights are generally more stylish than flush dome lights these days. Avoid brass finishes and go for black or bronzed "iron" looks, chrome or matte nickel finishes instead.
New, attractive ceiling lights can be purchased for anywhere from around $25 to hundreds of dollars (try Bellacor Pro online to check out a huge selection).
Replace Colonial style chandeliers with contemporary drum styles, elegant beaded styles, traditional classic shaded lamp chandeliers, or Mediterranean looks instead. Fit the chandelier to your dining room furniture and, to a lesser degree, house style. Don't forget to upgrade wall sconces as well, again eliminating any Colonial bare bulb looks.
Another major lighting faux pas that I see very often is the movie-star bare bulb look around vanity mirrors. That look dates any bathroom by several decades. It can be easily updated with simple frosted down-light sconces (check out Restoration Hardware for some classic looks). If you have fluorescent "box" lights in your kitchen, upgrade to either recessed lights or small track lights on curved chrome tracks. Be sure to use the maximum wattage bulbs allowed for your fixture to make your house look light and bright to buyers.